Articles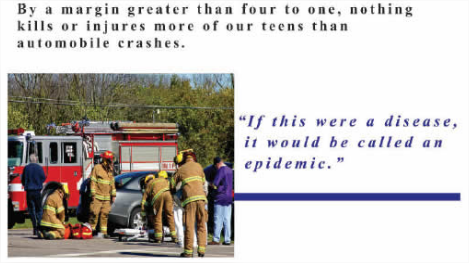 Conway Police Department is now providing Collision Avoidance Training (CAT) for teenage drivers. Teen drivers will now have the opportunity to get behind the wheel and learn how to avoid collisions while driving.

The goal of the program is to reduce the number of teenage traffic crashes, injuries and death by providing proper training to new drivers that will prepare them for emergency situations. This two day program is designed to provide young drivers with the knowledge and understanding of vehicle dynamics and human kinetics. Kinetics deal with the forces created by an automobile and the effects of the forces on the human body. Students receive one-on-one, behind the wheel training that prepares them for various emergency situations they encounter daily while driving on our roadways.
The CAT program started in February of 2000 by the National Traffic Safety Academy. Since its inception, over twelve thousand teen drivers have completed the program. As of October of 2008, there have been 591 reported crashes involving CAT students (5.7%). It is to be noted that of these crashes, all have been property damage only; no injury producing crashes and no fatalities.

The police department is proud to offer this program to our local teens. All classes are conducted under the direct supervision of law enforcement officers that are certified high liability driving instructors. Instructors ride with each student and students will move to the next exercise only after the instructor feels the student has demonstrated a reasonable degree of skill. Steering, acceleration, deceleration, backing, skid control and skid recovery are some of the tasks involved in the program. The basic principles of safe, defensive driving are emphasized throughout the training session.
All dates subject to change due to class size, weather, and unforeseen emergencies. The cost of the two day program is $80.00, students must be at least 16 years old and have a valid operator's license. The student is asked to provide the training vehicle that he/she will be driving most often. Some insurance companies also recognize this program with a discount to the policy holder.

For more information and updated training dates, please contact us!